About Magic Beach Hotel
You will find that all of our accommodations are completely renovated and updated. Each of our cozy rooms feature: Free wi-fi access, pillow-top mattresses, refrigerators, microwaves, coffee makers, and hair dryers. Don't forget to ask about our Jacuzzi rooms with an ocean view or one of our deluxe three-room suites!
Our goal at the Magic Beach Motel is to make your stay as enjoyable as possible. We treat our guests like family. If there are any special needs that you or your loved ones may have, don't hesitate to ask. We appreciate, and ENJOY, being a part of your vacationing memories!
History
The Magic Beach Motel was originally built in 1951 and was one among several little motels in the area. Over the decades, it stayed a small operation and changed owners a few times. The small motel began to draw big excitement in Vilano Beach in the late '90s as film crews started coming to town. Trucks and mobile homes started taking up residence in the vacant land across from the Vilano Beach Motel, and "a strange patrol car was parked in the motel parking lot for weeks."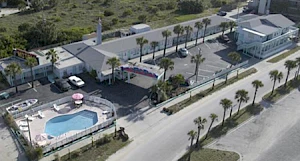 .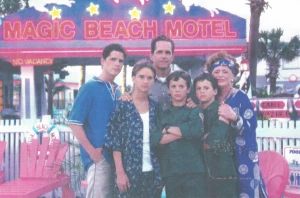 Eventually, residents learned that the strange patrol car was part of the set for the filming of "Safe Harbor" starring Rue McClanahan and Gregory Harrison. The series was about a sheriff and father of three boys living in Magic Beach, Fla., a fictional town. His mother, played by McClanahan, owned the Magic Beach Motel, and all of them lived there together. The sign, which features rabbits, a hat and neon lighting, came because the fictional owner's husband had been a magician.
The Magic Beach Motel began to become a bit run down over the years and, in 2010, was damaged in a fire. Two years later following a major renovation, the hotel is restored and modernized without losing its original charm. The art deco motel had its official re-opening on June 20, 2012 complete with a ribbon-cutting and a few speeches. The motel features pink flamingos, bright colors, neon lights, a clock and, of course, the Magic Beach Motel sign.
Most room murals have survived several owners and have been restored in the past several months. Among them are a painting of Ponce de Leon, and scenes from St. Augustine, including Flagler College.